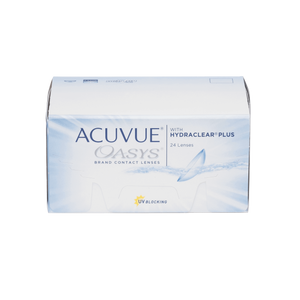 Acuvue Oasys with Hydraclear Plus - 24 Pack
Please upload your unexpired prescription brand for faster processing. Your prescribed brand must match the brand you order. If we need to contact your eye doctor, it can add 1-2 business days to the processing time.
Orders must be placed before 2pm Eastern for them to ship same day. Any order placed after 2pm Eastern will not ship until the next business day.
Federal holidays, Saturdays, and Sundays do not count as business days and orders will not ship on those days. If you need Saturday delivery, please place your order before 2pm on Friday and call us to confirm if we can add Saturday delivery for your location.
Product Information
Lens Type: 1-2 week soft disposable contact lenses
Lenses/Box: 24 lenses in buffered saline with methyl ether cellulose
Annual Supply: 2 Boxes
Material and % of Content: 62% polymer (Senofilcon A)
Manufacturer: Johnson & Johnson
Product Description
Acuvue Oasys contact lenses with Hydraclear Plus provide an extremely comfortable contact lens wearing experience. These lenses have been designed to keep your eyes moist and comfortable all day long, using Hydraclear Plus technology. These Acuvue Oasys contacts come with an inside out marking so you can insert them properly every time. They block more than 99% of UVB and 95% of UVA-1 rays, the highest levels you'll find on the market today. And with dryness-reducing Hydraclear Plus technology, these are the contact lenses for anyone looking to put down the rewetting drops and take off the glasses.
Also offered in a 12-pack!