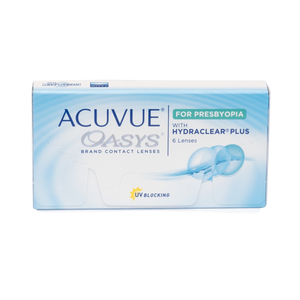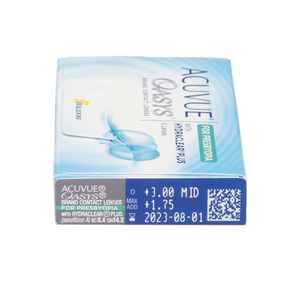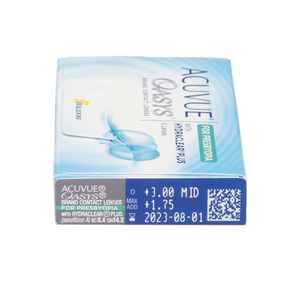 Acuvue Oasys for Presbyopia - 6 Pack
Please upload your unexpired prescription brand for faster processing. Your prescribed brand must match the brand you order. If we need to contact your eye doctor, it can add 1-2 business days to the processing time.
Orders must be placed before 2pm Eastern for them to ship same day. Any order placed after 2pm Eastern will not ship until the next business day.
Federal holidays, Saturdays, and Sundays do not count as business days and orders will not ship on those days. If you need Saturday delivery, please place your order before 2pm on Friday and call us to confirm if we can add Saturday delivery for your location.
Product Information
Lens Type: 1-2 week disposables for presbyopia
Lenses/Box: 6 lenses in buffered saline with.005% methyl ether cellulose
Annual Supply: 8 Boxes
Material and % of Content: 62% Senofilcon A
Manufacturer: Johnson & Johnson
Product Description
Is your vision with your current contacts not as clear at all distances as it was before? Are you having difficulty reading smaller or fine print or seeing in dim or low light? Are you finding yourself holding objects further away to see them clearly? Are your eyes feeling more tired and dry lately? Now with ACUVUE® OASYS® Brand for PRESBYOPIA, the next generation in multifocal contacts, you may be able to stay in lenses longer, without compromising vision or comfort. ACUVUE® OASYS® for PRESBYOPIA features the unique optical design of STEREO PRECISION TECHNOLOGY™ and the exceptional comfort of HYDRACLEAR® Plus technology. The result is balanced vision near, far and in-between, across variable lighting conditions, along with remarkable comfort—even in challenging environments that can make your eyes feel tired and dry. Ask your eye doctor if STEREO PRECISION TECHNOLOGY™ is right for you.