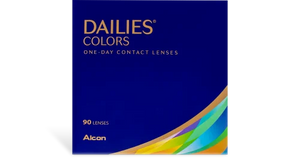 DAILIES Colors - 90 Pack
Please upload your unexpired prescription brand for faster processing. Your prescribed brand must match the brand you order. If we need to contact your eye doctor, it can add 1-2 business days to the processing time.
Orders must be placed before 2pm Eastern for them to ship same day. Any order placed after 2pm Eastern will not ship until the next business day.
Federal holidays, Saturdays, and Sundays do not count as business days and orders will not ship on those days. If you need Saturday delivery, please place your order before 2pm on Friday and call us to confirm if we can add Saturday delivery for your location.
Product Information
Lens Type: Daily disposable soft contact lenses
Lenses/Box: 90 sterile, single use, daily wear soft contact lenses in buffered saline containing up to 0.02% Poloxamer.
Annual Supply: 8 Boxes
Material and % of Content: 31% Nelfilcon A
Manufacturer: Alcon
Product Description
FreshLook Dimensions, the new generation of color contact lenses, enhance and define eye color with an innovative outer starburst pattern on the lens that instantly gives eyes a bigger, brighter, and completely natural look. The new FreshLook Dimensions colors, Pacific Blue, Sea Green, and Caribbean Aqua, are made especially for lighter eyes.
Curious what each color would look like on you? Check out the manufacturer's Color Studio where you can upload your own photo and see the difference color contacts make!
MANUFACTURER DISCLAIMER: Contact lenses, even if worn for cosmetic reasons, are medical devices that must only be worn under the prescription, direction and supervision of an eye care professional. Serious eye health problems may occur as a result of sharing contact lenses.
Also available in 30-packs!