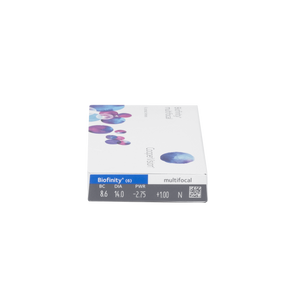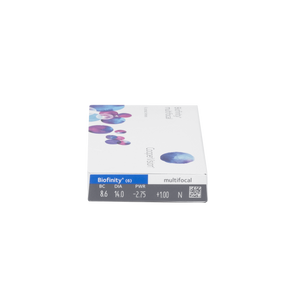 Biofinity Multifocal - 6 Pack
Please upload your unexpired prescription brand for faster processing. Your prescribed brand must match the brand you order. If we need to contact your eye doctor, it can add 1-2 business days to the processing time.
Orders must be placed before 2pm Eastern for them to ship same day. Any order placed after 2pm Eastern will not ship until the next business day.
Federal holidays, Saturdays, and Sundays do not count as business days and orders will not ship on those days. If you need Saturday delivery, please place your order before 2pm on Friday and call us to confirm if we can add Saturday delivery for your location.
Product Information
Lens Type: Monthly disposable multifocal soft contact lenses
Lenses/Box: 6 lenses immersed in buffered saline
Annual Supply: 4 Boxes
Material and % of Content: 52% comfilcon A
Manufacturer: CooperVision
Product Description
CooperVision's Biofinity Multifocal is a high-performance, monthly silicone hydrogel lens for people with presbyopia. This lens combines two unique technologies: Aquaform Comfort Science lens material and the proven Balanced Progressive Technology multifocal lens design.
Aquaform Comfort Science creates a lens material that provides high oxygen performance, keeping your eyes white and healthy. The material holds water within the lens making it naturally wet, soft and resistant to dehydration or protein deposits. Meanwhile, the Balanced Progressive Technology lens design delivers excellent vision at any distance: near, far and intermediate.
Also available in regular spherical and toric for astigmatism.