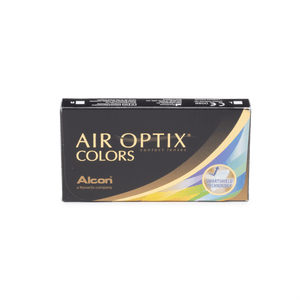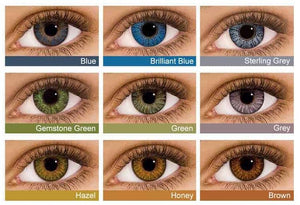 Air Optix Colors - 2 pack
Please upload your unexpired prescription brand for faster processing. Your prescribed brand must match the brand you order. If we need to contact your eye doctor, it can add 1-2 business days to the processing time.
Orders must be placed before 2pm Eastern for them to ship same day. Any order placed after 2pm Eastern will not ship until the next business day.
Federal holidays, Saturdays, and Sundays do not count as business days and orders will not ship on those days. If you need Saturday delivery, please place your order before 2pm on Friday and call us to confirm if we can add Saturday delivery for your location.
Product Information
Lens Type: Monthly disposable color contact lenses
Lenses/Box:  2 color lenses immersed in saline solution
Annual Supply: 12 Boxes
Material and % of Content: 67% lotrafilcon B
Manufacturer: Alcon
Product Description
With 12 colors to choose from, AIR OPTIX® COLORS contact lenses allow wearers to enhance any eye color—whether they're for brown eyes, for green eyes, or for blue eyes. AIR OPTIX® COLORS monthly color contacts can be worn with or without vision correction. Plus, SmartShield® Technology helps keep contacts clear of irritating surface deposits.
Curious what each color would look like on you? Check out the manufacturer's Color Studio where you can upload your own photo and see the difference color contacts make!
MANUFACTURER DISCLAIMER: Dk/t = 138 @ -3.00D. Other factors may impact eye health. Important information for AIR OPTIX® COLORS (lotrafilcon B) contact lenses: For daily wear only for near/far-sightedness. Contact lenses, even if worn for cosmetic reasons, are prescription medical devices that must only be worn under the prescription, direction and supervision of an eye care professional. Serious eye health problems may occur as a result of sharing contact lenses. Although rare, serious eye problems can develop while wearing contact lenses. Side effects like discomfort, mild burning or stinging may occur. To help avoid these problems, follow the wear and replacement schedule and the lens care instructions provided by your eye doctor.
Air Optix Colors is also available in 6-packs!