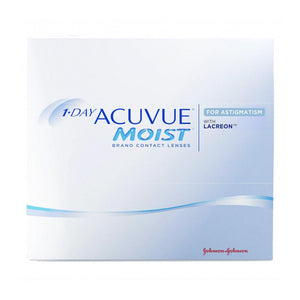 1-Day Acuvue Moist for Astigmatism - 90 Pack
Please upload your unexpired prescription brand for faster processing. Your prescribed brand must match the brand you order. If we need to contact your eye doctor, it can add 1-2 business days to the processing time.
Orders must be placed before 2pm Eastern for them to ship same day. Any order placed after 2pm Eastern will not ship until the next business day.
Federal holidays, Saturdays, and Sundays do not count as business days and orders will not ship on those days. If you need Saturday delivery, please place your order before 2pm on Friday and call us to confirm if we can add Saturday delivery for your location.
Product Information
Lens Type: Daily disposable soft contact lenses for astigmatism
Lenses/Box: 90 lenses in buffered saline with povidone
Annual Supply: 8 Boxes
Material and % of Content: 42% Etafilcon A
Manufacturer: Johnson & Johnson
Product Description
Introducing 1-DAY ACUVUE® MOIST® Brand for ASTIGMATISM. Along with the convenience of no solutions and no lens cases, we brought together our innovative BLINK STABILIZED™ lens design and the exceptional comfort of LACREON® Technology to form a lens like no other. It gives you consistently clear and comfortable vision from the moment you put them in, to the moment you toss them at the end of the day. 1-DAY ACUVUE® MOIST® Brand for ASTIGMATISM lenses help protect the covered portions of your eyes by blocking at least 82% of the UV-A radiation and 97% of the UV-B radiation.
Also available in 30-packs for astigmatism and in regular spherical in both 30-packs and 90-packs!