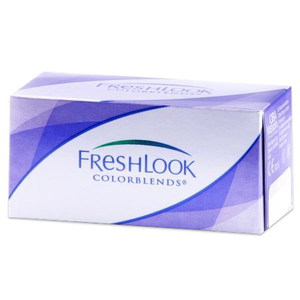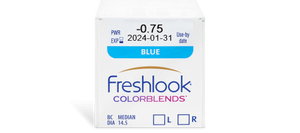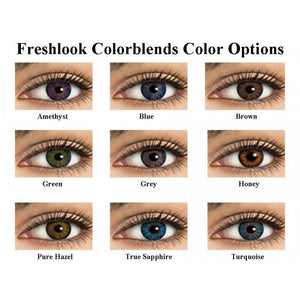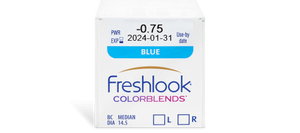 Freshlook Colorblends - 6 Pack
Please upload your unexpired prescription brand for faster processing. Your prescribed brand must match the brand you order. If we need to contact your eye doctor, it can add 1-2 business days to the processing time.
Orders must be placed before 2pm Eastern for them to ship same day. Any order placed after 2pm Eastern will not ship until the next business day.
Federal holidays, Saturdays, and Sundays do not count as business days and orders will not ship on those days. If you need Saturday delivery, please place your order before 2pm on Friday and call us to confirm if we can add Saturday delivery for your location.
Product Information
Lens Type: 1-2 week disposable colored contact lenses
Lenses/Box: 6 colored lenses immersed in isotonic borate solution
Annual Supply: 4 Boxes
Material and % of Content: 45% polymer (phemfilcon)
Manufacturer: Alcon
Product Description
If you have ever wanted to subtly enhance your eye color, Freshlook Colorblends contact lenses are the way to do it. Using a patented 3-in-1 technology to combine three colors into one, your eyes will take on a new deep color while retaining their natural appearance. There are a variety of dramatic new shades to choose from including Sterling Gray, Brilliant Blue, and Gemstone Green. Or choose from one of the classic hues, like green, honey, gray, blue, turquoise, amethyst, brown, Pure Hazel, or True Sapphire. Freshlook Colorblends contacts are a 1-2 week disposable lens that you can wear every day or just for that special occasion.
MANUFACTURER DISCLAIMER: Contact lenses, even if worn for cosmetic reasons, are medical devices that must only be worn under the prescription, direction and supervision of an eye care professional. Serious eye health problems may occur as a result of sharing contact lenses. OTHER INFO: Freshlook Colorblends contacts provide a safe and unique way to enhance your appearance when fitted, worn and cared for properly. Freshlook Colorblends can be worn even with 20/20 vision.