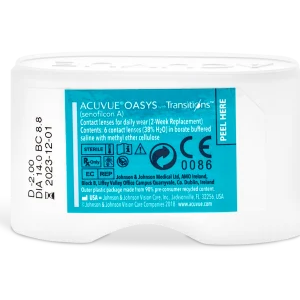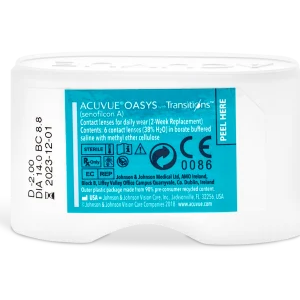 Acuvue Oasys with Transitions - 25 Pack
Please upload your unexpired prescription brand for faster processing. Your prescribed brand must match the brand you order. If we need to contact your eye doctor, it can add 1-2 business days to the processing time.
Orders must be placed before 2pm Eastern for them to ship same day. Any order placed after 2pm Eastern will not ship until the next business day.
Federal holidays, Saturdays, and Sundays do not count as business days and orders will not ship on those days. If you need Saturday delivery, please place your order before 2pm on Friday and call us to confirm if we can add Saturday delivery for your location.
Product Information
Lens Type: 2 week replacement UV blocking lenses
Lenses/Box: 25 lenses in borate buffered saline with methyl ether cellulose

Annual Supply: 2 Boxes
Material and % of Content: 62% senofilcon A
Manufacturer: Johnson & Johnson
Product Description
Say goodbye to squinting midday and haloes or starbursts at night. We're excited to offer the newest contacts from Johnson & Johnson, ACUVUE® OASYS Brand Contact Lenses with Transitions™ Light Intelligent Technology™.

These innovative contacts balance the amount of indoor and outdoor light that's allowed to enter your eyes, including blue light from devices. When exposed to UV and/or HEV light, they darken slightly for protection without dramatically changing the appearance of your eyes.

While these contacts do offer UV protection to the areas they cover, non-prescription sunglasses are still recommended outdoors to help protect all areas of your eyes.

See clearly, no matter the light, with ACUVUE® OASYS with Transitions
Also available in 6-packs!